At 18:43, on 8th of September 1944 a gas main in Staveley Road, Chiswick exploded. The explosion destroyed 11 houses, killed three people and injured a further 27 people. Or at least that was what the news reported. In truth it was the first V-2 rocket to strike London. It had been fired by the 485th Rocket Battery from near the Hague in Holland. The Allies had since 1943 been conducting Operation Crossbow, an attempt to counter the V weapons programs.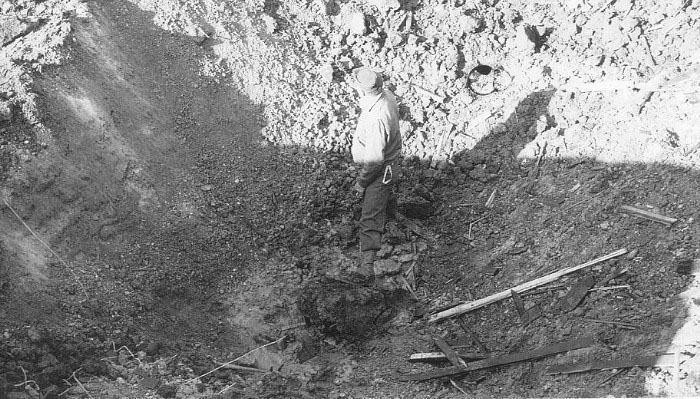 Chiswick crater
Staveley Road
By February 1945 these counter measures included fighter sweeps. As well as specific targets these sweeps would often just attack an area hitting anything that looked like a good target of opportunity. One of the squadrons that took part was 602 Squadron with Spitfire MK XVI's. No 602 Squadron's other claim to fame was one of its pilots had been the individual who strafed Rommel's staff car earlier in 1944.
One plan was to have AA fire box Barrages along the flight path of V2's detected by Radar. It was never implemented.
On February 14th a flight of six Spitfires set off from Coltishall Airfield. The Spitfires were armed with a mixture of 500 lb and 250 lb bombs, as well as their cannons. This flight was lead by Raymond Baxter, who later became a famous BBC presenter. When they arrived over the Dutch coast they knew exactly where they were going, as they'd flown to this areas many times before. As they approached the area they were to sweep, at 8000 feet, German heavy flak opened up at them. The flak stood little chance as the flight carried on switching its heading, feeling faintly pleased when the flak bursts continued along the path they'd just turned off.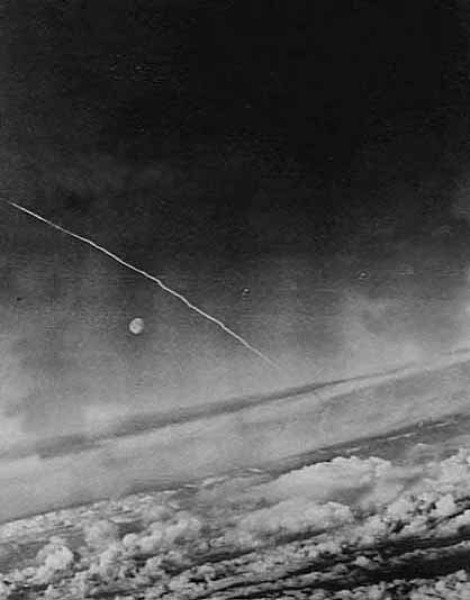 V-2 vapour trail, photographed from a USAAF bomber.
Although the Spitfires of 602 Squadron came close there was, however, one claimed shoot down of a V-2. Strangely for such an impressive claim, I've not yet been able to find many details. On an unknown date the 34th Bombardment Group in B-24's were flying at 10,000 feet over Holland. A V-2 was launched through the formation and one of the waist gunners on a B-24 opened fire and hit the missile at the end of its vapour trail.