Today I need your help.
During the post World War One period, much of Eastern Europe became a mass of conflicting ideals and political groups and fighting. In most cases each country had its war of independence during the time. However the wider period is sometimes, inaccurately, called the Russian Civil War. Where White and Red Russians fought each other. The Whites and the nationalists were often supported by the west. Equally the differing groups were armed and equipped by the west.
During the next two years the Russian Baltic Fleet moved into Tallinn and set up a major fleet base there. Then came Operation Barbarossa. The Germans stormed across the Soviet captured territory and the Red Army threw everything into the fight. At Tallinn the Red Navy converted two of the captured Estonian Styer 640 trucks into armoured cars and issued them to the Russian Naval infantry.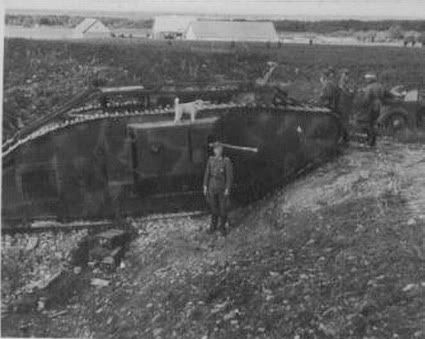 Tank #4
And that's where the hard detailed information ends. I know nothing more that I consider good evidence. I have some single unsourced claims, and I can make some guesses though. I suspect it was the Naval infantry whom used them, although it could easily have been the Red Army. Some sources claim all were mobile. Others only two, and the other two were used as bunkers. One source claims they took part in the fighting at a cross roads. Another says they were part of the "Rae" defensive line, but I can't find any other mention of that position.
Tank #1
I can make a good guess what happened after the Germans knocked them out as well. MKV tanks appear in Berlin at the end of the war. These were immobile and used as air-raid shelters. Up until then they had been sitting in the Lustgarten. In World War One Germany never captured a MKV tank, and as the tanks seen in Berlin at the end of World War Two are MKV's there's only a tiny number of places they could have come from, Estonia is one.
(Apologies for both the short article and being late today. I'm currently moving house so the Internet connection, and my book collection are limited and patchy.)