Guess, some self-PR wouldn't hurt anyone :). Below is the photo of Minsk-based WG's producing team (not complete, but still counts). Those guys are basically responsible for all the good (and bad) things (featues, content, etc) that are now and will be in future WG projects (ofc kudos to designers, programmers, and artists, etc).
So, here they are: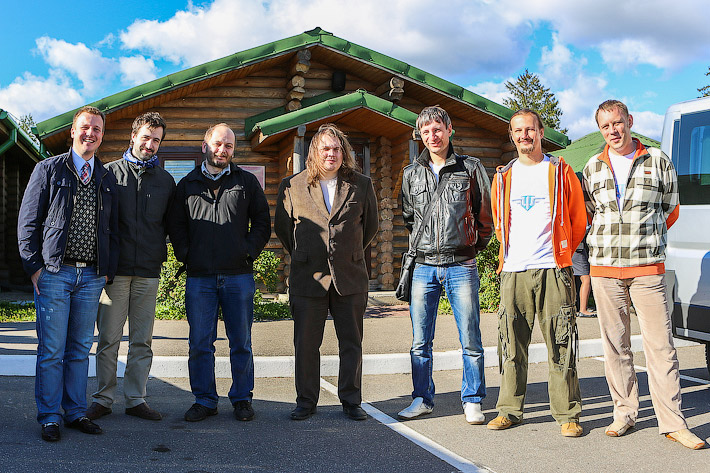 Starting from right:
Anton Sitnikau - Senior proudcer of WoWP (he is the one who responsible for all aerial-related issues)
Alex Zezulin - Project manager of WoWP (responsible for for ties with Kiev studio)
Michael Jivets/Zhivets aka Storm - Producer of WoT (responsible for day-to-day production of tanks)
Slava Makarov - Executive producer of WG (or just Slava, he is one of the fathers of WoT and most of the other concepts that will in future become games)
Sergey Burkatovskiy aka SerB - Executive producer / Head of Game design of WG (Sergey maintains the global vision of all WG projects and is capable of solving the hardest and trickiest game design issues of ground, aerial, and naval warfare. Many love and cherish him for good balance in WoT, especially his strong passion for German vehicles)
Andrey Gashkov - Producer of World of Warships (he is responsible for the project in general)
And the guy on the left is some useless PR officer :).
The team is still not complete however, it is missing Alexey Levakov (producer of WoWS), Olga Koshan (producer of WoTG), and myself (Overlord). Since they have skipped the gathering, will leave them for next time.
PS: the photo was taken during Tanker's day celebration on September 9, 2012 near Minsk.